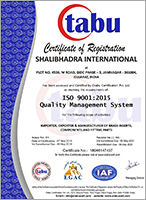 Incorporated in the year 2002, we, Shalibhadra International are a highly dependable manufacturer, supplier and exporter of an unmatched array of Brass Inserts & MS Inserts like Brass Expansion Insert, Brass Bi-Sert Insert, Brass Expansion Inserts, Brass Expansion Inserts, Brass Multi Micro Insert, Brass Fiber Sert Insert, Brass Headed Hex Drive Insert, Brass Headed Screw in Insert etc. Highly advanced technology is employed in order to manufacture top quality brass fitting products. Also, the utilization of hi-tech machines has given a strong foundation to the long life and unmatched tensile strength of our brass products. Further, our Brass Fasteners have a huge demand in the marketplace due to their firm grip, dimensional accuracy, corrosion resistance, and more. Our products are supplied to local Gujarat along with different trade center of India, such as Mumbai, Delhi, Chennai, Bangalore, Kolkata, Ahmadabad, Hyderabad, And our exports countries are UK, Australia, Turkey etc.
Our Facilities
A completely modern factory setup is developed by our firm, updating with highly useful resources and facilities. Our production facility is installed with top-grade and high performing tools and equipment that produce defect-free products in heavy quantity. The research &development facility is also equipped with result oriented and reliable instruments for the creation of the best array of products. Moreover,our highly dedicated team of professionals match and surpass clients'quality and delivery expectations with complete accuracy. Queries of clients are properly handled by our professional.

Quality Assurance

We follow the industry prevailing standards while producing Ultrasonic Inserts, Brass Inserts, MS Inserts, Brass Threaded Inserts and more.Quality assured raw materials are sourced from trustworthy vendors to use in the process of manufacturing. Our brass products are examined against the different quality parameters like design, corrosion resistance, strength, etc., to assure their firm grip. A highly advanced quality control lab is developed in-house to keep an eye on the quality of products.

Main Products

We are a manufacturer, supplier and exporter of some of the following products:

Brass Inserts

Brass Expansion Insert

Brass Press Lock Type Inserts

Brass Threaded Inserts

Brass Bi-Sert Insert

Brass Rotational Molding Inserts

Brass Ultra Inserts

Brass Expansion Type Inserts

Brass Round Inserts

Brass Unheaded Hex-Drive Insert

Brass Fiber Sert Insert

Brass Self Lock Expansion Insert

Brass Unheaded Screw-In Insert

Brass Headed Hex Drive Insert

Brass Self Tapping Inserts

Brass Vaned Expansion Insert

Brass Headed Screw in Insert

Brass Sharp-Sert Insert

Brass Wood Inserts

Brass Hex Inserts

Brass Slot Drive Insert

Brass Square Nut Inserts

Brass Knock In Inserts

Brass Spreading Dowel Insert

Brass Square Insert

Brass Knurled Expansion Insert

Brass Spreading Inserts

Ultrasonic Inserts For Plastic

Brass Multi Headed Insert

Brass Straight Knurling Inserts

Threaded Inserts For Thermoplastics

Brass Multi Headed Micro Insert

Brass Studded Press-In Insert

Brass Inserts For Plastic

Brass Multi Unheaded Inserts

Brass Studded Ultra Insert

Brass Inserts For Plastic Industries

Brass NS Ultra Insert

Brass PPR Male Insert

Brass Inserts For Plastic Molding

Brass Plastic Moulding Inserts

Brass Press in Inserts

Brass PPR Female Insert

MS Inserts

MS Hex Insert

MS Knurling Insert

MS Round Insert

MS Square Insert






Research and Development

Our continued success in the industry is based on our intensive R&D. We are backed by an in-house research and development unit which helps us in keeping a pace with the fast changing industry trends and requirements. It is handled by a team of researchers and engineers who keep an eye on the technology developments and up-gradation to ensure our products are at par with the current market demands. They use modern devices, equipment and machinery to bring forth a sturdy and reliable range of products. This helps us in not only improving our existing products but also introducing new products at bets prices. Further,continuous investments and improvements in the unit allow us to meet the increasing demands of our client with efficiency and perfection.

Our Team

We provide our clients with complete technical support to establish mutually beneficial and long lasting relationships with them. We have hired a team of application engineers and qualified staff to provide quality and cost effective solutions across different industrial sectors. Technically competency, expertise and skills enable them to provide bets solutions to our patrons at cost effective prices.Moreover, these are supported by in-house staff in manufacturing and quality checking process to ensure products offered are best suited to our clients requirements. They work in coordination with each other to analyse requirements and accordingly design and develop products. With their cohesive support and assistance, we have been able to successfully meet bulk requirements of our clients with enhanced productivity and efficiency.

Our Infrastructure

Our large infrastructural set-up includes numerous operational wings that function in a highly organized manner. A fully advanced unit for production is developed by us in order to deliver bulks products and meet the increasing demands. This facility is installed with equipment and machinery which require minimal maintenance and work for extended hours without the need of stopping. We have a completely advanced warehouse,location in proximity to the production unit and also well connected to varied transportation modes.
Primary Competitive Advantages

We improvise as per changes in market to assure that we deliver the best quality products to our clients. Holding a modern and fully functioning infrastructure and implementation of modern production methods have helped us deliver quality products. Some other factors that define our capabilities are:

Fair Business Policies
Client-centric Approaches
Delivery On Time
Total Management of Quality
Competitive Market Prices
Team of Dedicated Professionals
We Mainly Accept Inquiries from International Market
Read More